Good morning, world! If you're American, Happy Fourth of July! This is the day the Lord has made. I will rejoice and be glad in it.
I got a chance to sleep in today after a few nights in a row staying up until 1:00 a.m. When there's turmoil in my life, I often read books.
Martha Finley, an author living in the 1800's, wrote books based on her years growing up, and her nieces and nephews, and navigating life through tumultuous times. The Christians rely on God and the promises in His Word, plus wisdom from others following the Lord.
The Elsie Dinsmore series and the Millie Keith books deal with persecution from family and friends who attend church for social reasons only. They both encounter slavery in their world and political upheaval. Prejudice shows its ugly face among various cultures intermingling and it shows the love of Christ breaking barriers between varying races. In the last book of Millie Keith's adventures, entitled Millie's Fiery Trial, Book Eight of the A Life of Faith: Millie Keith Series, copyrighted in 2003, published by Mission City Press, Inc., Franklin, TN, Millie faces spiritual warfare on a level she never faced before.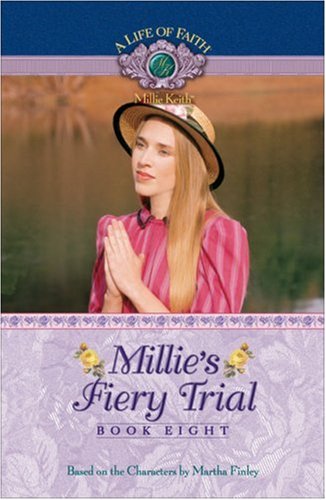 While still in America, back in their day, the main crisis between men and women shown in these books for children was choosing spouses or remaining single. In the South, the wealthy plantation owners tried their best to marry within their own circle of the social elite.
Little Elsie Dinsmore came from an extremely wealthy family, but their resources came from "trade," not from the hierarchy of the well-bred and well-off plantation owners of the day. Martha Finley shows the evils of slavery and both sides of the story, and a little about the underground railroad for runaway slaves.
I'm always convicted when I read these adventurous stories. Am I speaking for Christ among lukewarm Christians or to those who don't know the love and promises of Jesus for themselves?
Lately, between book reading and more television watching than usual, I'm a little behind in my Bible reading. So, I intend to find a quiet spot to soak in God's Word today.
I have another small surgery coming this week, so my activities have been limited. A surgeon assured me I'll get back to normal, although they're not saying when. I trust God to take care of me. (Romans 8: 28-29, NASB) says, "And we know that God causes all things to work together for good to those who love God, to those who are called according to His purpose. For whom He foreknew, He also predestined to become conformed to the image of His Son, that He might be the first-born among many brethren:".
Jesus promised us peace and love and trials and persecution and power from on high to do more than He did.
I hope you are doing well and are able to find joy in the Lord, no matter what's going on in your part of the world.